Aluminum Bahama Shutters are a clever, effective option for your windows, storefronts, patios, porches, glass doors, and decks. They bring you a classic style with modern durability; a popular and lightweight choice.
How Bahama Shutters Make Your Property Stand Out
These decorative shutters are a fashionable accent for both residential and commercial properties. Similar to the look of colonial and other wooden louvered shutters, these aluminum structures are far more durable.
Window Shutters
The slatted louvers may be affixed to either side of your windows. This allows you to swing them open to let full sunlight in and to pull them shut when you want to block the sun's rays. You can also adjust the slats to control the amount of light you want entering the home or business.
Another style features a single piece that covers your windows from top to bottom. These shutters may be raised from the bottom to allow for more airflow. They have more of an awning-type appearance. Or, they may be fixed in the open position – while shading all or only part of the window. Many commercial properties feature this second style.
Porches, Patios, And Decks
You can create an enclosed outdoor space with aluminum shutters. Hang or affix them along with one or more of the openings to your deck, patio, or porch. The shutters not only look beautiful but also provide shade and protection from the weather.
With a custom-built approach, you can choose from these various styles and tailor your selections to meet your specific tastes and requirements. Add special touches, like lighting and ornamental accents, to make even more of an impression on your guests, customers, or patrons.
Bahama Shutters For Doors
Protect your sliding patio doors and other doors with glass inserts with Bahama shutters. You can install them the same way they are used with windows. This allows you to still enjoy beautiful natural light while shielding your property from the elements and helping decrease energy costs.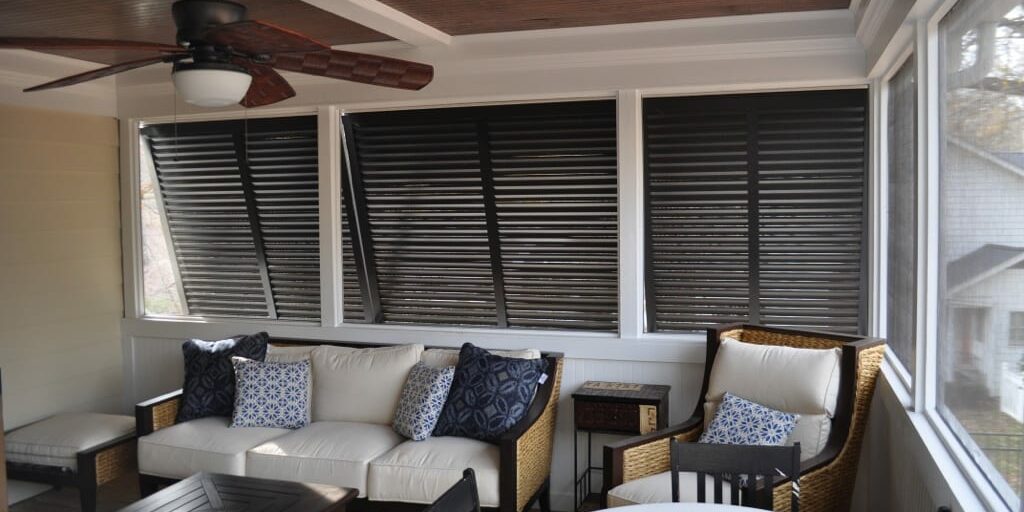 Benefits of Bahama Shutters
The design of the Bahama Shutter provides protection from the sun and maximum airflow. Use these shutters for the following benefits:
Shade Control and Light Regulation

Privacy

Protection from Heavy Rain and Wind
We offer Aluminum Bahama Shutters in a variety of colors with custom powder coating. View some of the many ways you can incorporate Bahama Shutters at your home or business -- Review Our Bahama Shutter Gallery below!
Check Out Our Bahama Shutters Gallery