Metal awnings and canopies offer durability, longevity, and a modern aesthetic to your business. And with the customized services of Custom Canvas Works, we can design and create frames and canopies that complement your unique structure. Learn more about these coverings and how your property can benefit from metal awnings.
These contemporary canopies are an architectural dream. And they're based on a sound structural design that promises to withstand the test of time and weather. Both practical and beautiful, standing seam canopies are a big hit with commercial buildings.
Lightweight aluminum is an ideal material for awnings. Powder coating supports customized color choices. And an overhead support system eliminates the need for columns, posts, or foundations. Yet, you sacrifice none of the benefits of a standard metal awning set-up with our suspended aluminum canopies.
Décor and shade are the top benefits of these canopies. Though, some weather-protection options are available. Because there are no support arms, this style needs a strong mounting surface. These are highly customizable options. You can request various designs and color selections for the underside (soffit) and the sides (fascia) of these structures.
These are attractive additions to any home or building, delivering lots of curb appeal. Slats allow air to circulate and prevent heat-trapping under these Bahama Style shutters. They're available in a variety of lovely patinas. Some popular choices are pewter, iron, copper, terra cotta, gray, and bronze.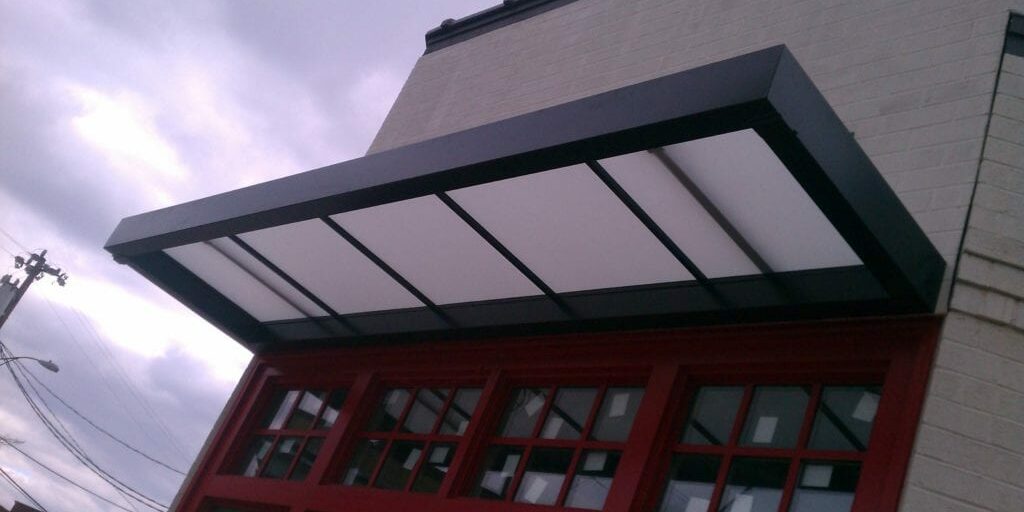 Benefits of Metal Canopies
The strength and sleek appearance of these metal structures provide many benefits.
Decorative
Reduce heat
Lower energy costs
Provide sun protection
Control sun glare
Low-maintenance choices
Commercial grade construction
Resistance to wind, rain, and snow
Versatility
Common Uses
Metal canopies are fit for several purposes. Some typical areas of use include the following:
Doors / entryways
Exit doors
Windows
Walkways
Carports
Outdoor stairs
Bus stops
Gas stations
Picnic areas
Rest stops
Pergolas
Loading docks
As a business owner or homeowner, you can improve the appearance of your property and save on energy with a metal canopy custom-designed by our skilled team at Custom Canvas Works. See some of the ways we've enhanced our customers' buildings.
Check Out Our Metal Canopy Gallery